April 14, 2021
Speaking up for a sustainable future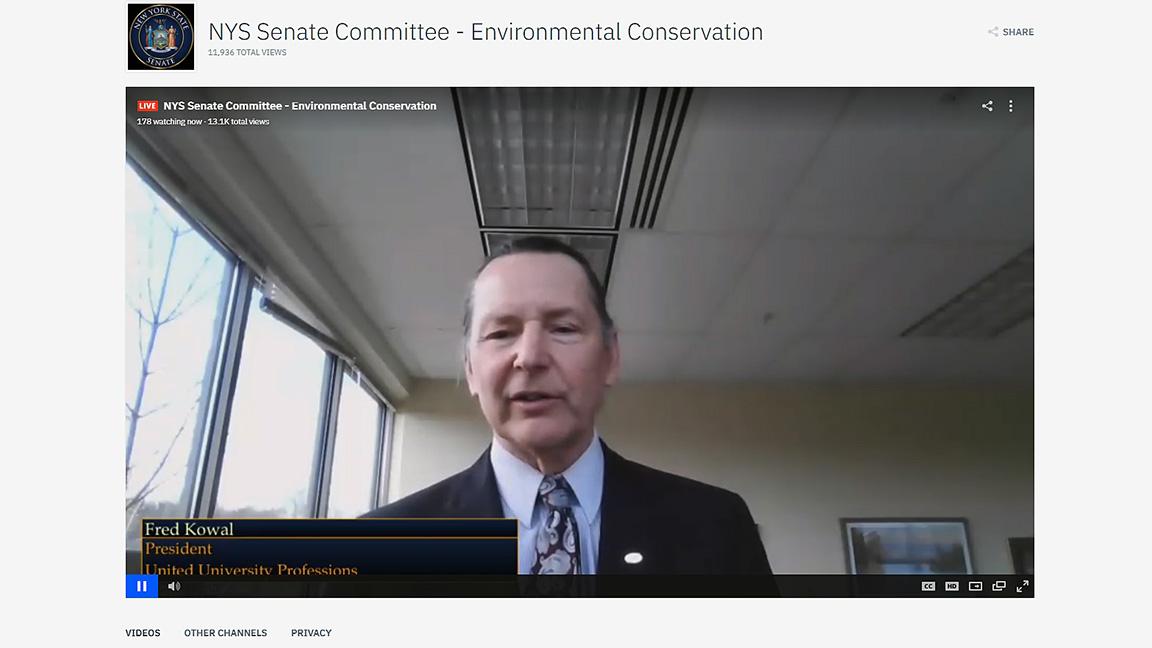 UUP President Fred Kowal strongly endorsed a Senate bill that would fund the state's ambitious climate law, telling lawmakers in an April 13 virtual hearing that the steps the bill would set in motion closely match goals that the union holds for SUNY.
"We are a union of scientists and medical professionals, serving students and serving patients," Kowal testified to members of the Senate standing committees of environmental conservation and energy and telecommunications, as he explained why UUP supports the bill known as the Climate and Community Investment Act (CCIA). "We must realize that the sacrifices this effort will ask us to make will be neither easy nor painless. The urgency of the issue cannot be overstated. If we fail, the failure will be terrible for those yet to be born, and history will never forgive us."
New law envisions a sustainable state
The CCIA would create a tax on carbon emissions for major polluters in the state, with the money going toward programs aimed at reducing the state's carbon footprint, as outlined in the 2019 Climate Leadership and Community Protection Act.
That law, which Gov. Andrew Cuomo backed, commits the state to converting to carbon-free electricity by 2040 and a net-zero carbon economy by 2050—meaning that 85 percent of the improvement will come from the state's own reduction in emissions, and 15 percent from carbon offsets, which are payments by polluters that are used to reduce equivalent amounts of carbon in the atmosphere.
The law has been widely hailed as the most ambitious state plan in the country to address climate change—but it passed on the last day of the 2019 Legislative session without a funding mechanism.
The Senate bill for which Kowal testified would establish the funding mechanism for the law. Its supporters hope to see it become law in the post-budget activity of the Legislature, but it does not yet have a companion Assembly bill. New York Renews, a coalition of more than 300 labor and environmental groups, of which UUP is a founding partner, has campaigned steadily throughout the legislative session for passage of the CCIA.
UUP out front with its own plans
Whatever the fate of the CCIA in the remainder of this session, the goal of converting New York from a fossil-fuel economy to one of carbon-free energy is clearly gaining speed.
Kowal used the question-and-answer part of the hearing with a friendly and receptive group of lawmakers and mostly like-minded proponents of the bill to point out that UUP has advocated such measures for SUNY for years.
In UUP's NY25 environmental plan for SUNY, released last year, the union calls on the university to develop a self-sustaining energy plan, make campuses as close to carbon-neutral as possible, and emphasize programs of study that would send graduates into clean-energy fields. Given that so many UUP members in chemistry, environmental studies, engineering and other fields are already working on research projects in sustainable energy, UUP sees SUNY as a natural setting for such a proposal.
The union's 2021 legislative proposal, New York HEALS (Health care, education, Access, Leadership, Sustainability) reinforces this goal with a section on sustainability. Read more about NY HEALS HERE. Read more about NY25 HERE.
Achieving the goals set out in those two plans depends on support from campus communities, which Kowal said is entirely possible.
"I think SUNY as an institution in so many small upstate communities can do things like create microgrids," he told senators during the hearing. "When you've got the community buying in, I believe SUNY can do this."
Follow us on Social Media!