June 7, 2021
Spring DA sees UUP strong, determined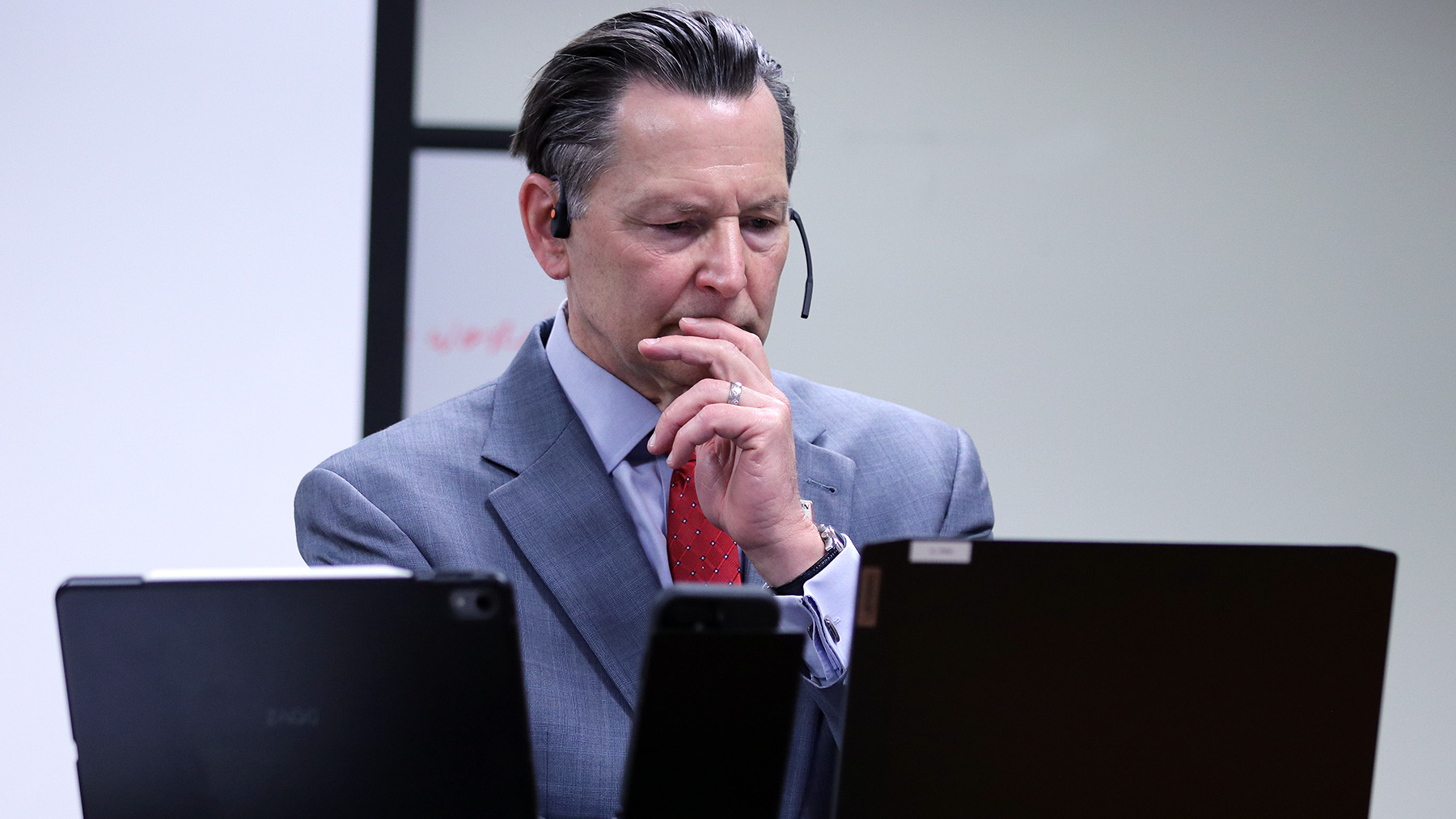 The theme of the UUP Spring 2021 Delegate Assembly, as delegates came together for what leaders hope will be the last all-virtual DA, could be summarized with these words of strength and optimism: "Looking ahead and getting ready."
Everything about the DA, held June 4-5, affirmed that as UUP emerges from the 15 difficult months of the coronavirus pandemic, the union is preparing to address challenges that await. Those challenges include an academic year that will be almost but not entirely "back to normal," along with upcoming contract negotiations that will reflect needs that surfaced during the pandemic, including telecommuting, workload and child care.
Some special pandemic-related circumstances will continue into the new academic year. UUP continues to urge members to be vaccinated against the coronavirus. Delegates want to see the telecommuting agreement continue past the current July 2 expiration date.
And delegates approved a temporary constitutional amendment to allow mail ballots instead of in-person voting for the upcoming statewide election later this summer, when they will elect vice presidents for professionals and academics and six executive board members. Watch the UUP website for more information on the election.
Kowal pays tribute to members
UUP President Fred Kowal's remarks noted the loss and upheaval that members endured during the pandemic, as well as the courage they displayed.
"Throughout this year of COVID, I have been moved so often by the work of many of us to literally save the lives of COVID victims, to re-create a learning environment so that our students could continue their education and bring their dreams into reality, and to conduct the life-saving research that has led us out of the COVID nightmare," he said.
Kowal made a point of citing UUP members at the four academic medical centers for their high-risk work during the pandemic. But unlike the four-year campuses, the three SUNY hospitals did not receive any state support in the budget, nor did lawmakers provide hazard pay for front line UUP members, a dismissive action that Kowal called stunning.
"Our federal advocacy right now is laser-focused on getting money from various programs, those already in place and those being proposed by the Biden Administration and progressives in Congress, for the SUNY hospitals," Kowal pledged.
The past year has also seen new young leaders make their presence known in UUP, Kowal noted, many of whom helped the union achieve a state budget in which four-year campuses and opportunity programs fared better than expected.
A leaner but strongly focused Negotiations Team
Albany Chapter member Bret Benjamin, the chief negotiator for upcoming contract talks, told delegates that negotiations will involve close work with chapters throughout the process.
In addition to Benjamin, Negotiations Team members include Redetha Abraham-Nichols of Downstate Medical Center, Jennifer Drake of Cortland, Mindy Heath of Upstate Medical University, Jude Jayatilleke of Buffalo State, Aaron Major of Albany, Pamela Malone of Empire State College, Jackie Pittsley of Cortland, Benita Roth of Binghamton, Idalia Torres of Fredonia, Bill Tusang of Cobleskill and Di Yu of Purchase.
The current contract runs through July 1, 2022.
Because of the time constraints with the virtual DA format, delegates did not debate and vote on special orders of business and resolutions; they instead voted to send them to the UUP Executive Board for action.
Actions to Executive Board
Special orders of business offer support for University of North Carolina Professor Nikole Hannah-Jones in her effort to attain tenure; honor Dr. Barbara Bowen, the outgoing president of the Professional Staff Congress/CUNY; and offer solidarity to the Palestinian people.
Resolutions going to the Executive Board include:
Recognition of the long service of the late Cortland Chapter member Ann Gebhard, who was a pioneering advocate for contingents;
The creation of a Contract Action Coordinating Committee, which will help members be more engaged in the effort to attain a fair contract;
Support by UUP for Amazon workers in New York seeking to organize
The 2021 Fall Delegate Assembly is tentatively scheduled in person Oct. 15-16 in Rochester. Kowal touched on that plan as a sign of hope, and encouraged members to continue their cooperative work started during the worst crisis to face New York and UUP.
"We're blessed to be able to see the future in the patients we heal and the students we nurture. We owe them a good future," he told delegates. "But we owe it to each other and to ourselves as well… A future of promise, of justice, of hope, of love… borne of a commitment to each other, to our union, to our community."
Professionals, academics, cite ongoing needs
The telecommuting agreement figured strongly into the June 4 Professional Delegates Meeting, where delegates said they hope to see it extended. Outgoing Vice President for Professionals Tom Tucker and Kat Kielar, the Buffalo Center Chapter's VPP, led the meeting, where delegates also talked about on-call/recall issues that became especially problematic during the pandemic.
At the Academic Delegates' meeting, led by outgoing statewide Vice President for Academics Jamie Dangler, concerns about student evaluations dominated the discussion. Some chapters have made gains in this area, but not all campus administrations are open to suggestions. UUP is developing a toolkit to help chapters to continue tackling this issue; that will be ready in July.
In other business during plenary sessions June 4-5, members heard reports by Tucker and Dangler, as well as Membership Development Officer Tom Hoey and statewide Secretary-Treasurer Jeri O'Bryan-Losee, who presented a 2021-22 budget with $10.3 million in operating funds that delegates overwhelmingly approved. Delegates also heard from member Gwen Kay, outgoing president of the SUNY Faculty Senate and a strong UUP ally.
UUP honored the outstanding work of chapter journalists for their newsletters and websites in the annual journalism contest. You can read the list of winners Here
UUP members can go to the UUP Members Only page of the UUP website to see the DA agenda, officers' reports, the 2021 statewide election calendar, and the UUP 2021-22 budget.
Follow us on Social Media!