June 9, 2022
UUP joins call for environmental justice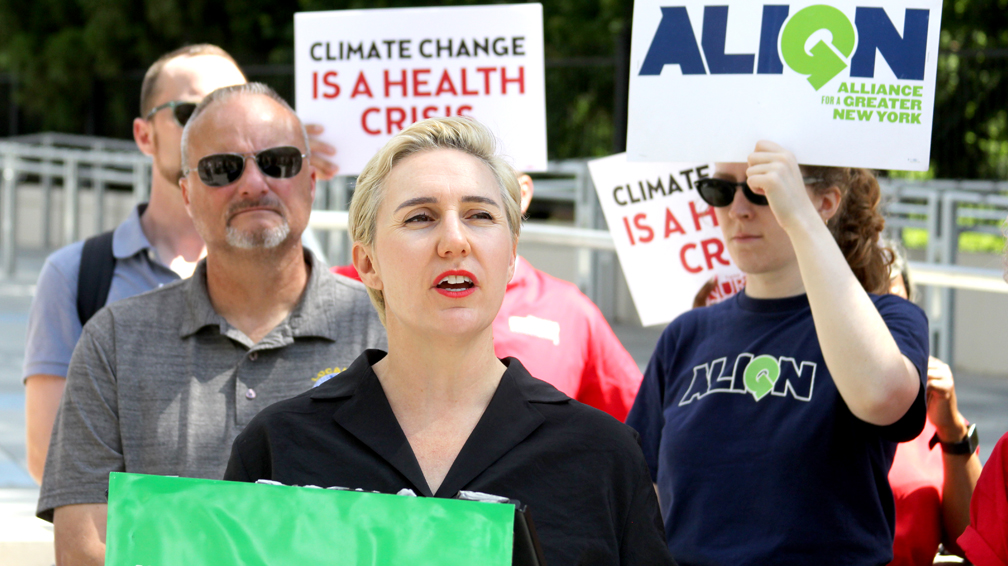 UUP Vice President for Academics Alissa Karl joined other labor representatives June 8 for a press conference in New York City in support of the full implementation of the state's Climate Leadership and Community Protection Act.
"UUP stands with you today to deliver this clear message: New York must lead the way in environmental justice reform, and we will work together to make sure that happens," Karl said. "It will take all of us—environmental advocates, unions, students, community leaders and workers across the state.
"Advocating for climate action is not new to UUP—we have been advocating for a cleaner, more sustainable future for our communities for years."
The unions participating in the press conference—which took place in front of the Borough of Manhattan Community College on Chambers Street—are all members of NY Renews, a coalition of more than 200 environmental and labor groups. UUP is a founding member of NY Renews.
The press conference setting symbolized the potential to make positive environmental change, because the Borough of Manhattan Community College has what is believed to be the largest solar-panel roof in Manhattan.
UUP members deeply involved
The 2019 Climate Leadership and Community Protection Act sets strict new standards for emissions control, among other major steps to protect New York's environment. The state's Climate Action Council is conducting public hearings to gather comments on the specifics of carrying out the mandates set by the law. UUP member Brian Obach of the New Paltz Chapter recently testified before the Climate Action Council, and said that the Climate Leadership and Community Protection Act needs strong funding and strong enforcement power to be effective.
UUP is also backing a package of five environmental bills that would help SUNY become a greener university, and Karl also invoked those bills in her remarks at the press conference.
"As the largest public higher education system in the United States, SUNY is uniquely positional to lead the way in addressing the environmental challenges our society confronts today," Karl said.
UUP's statewide Environmental Issues and Advocacy Committee conceived the ideas for the five bills. The committee is co-chaired by Obach and UUP member Susan Fassler of the ESF Chapter. The bills would help reduce waste generated by SUNY, and they would also improve SUNY's oversight of sustainability issues.
Watch the UUP Connect and UUPdate newsletters for information the bills as they progress through the Legislature. Read more about them HERE.
Follow us on Social Media!