July 21, 2022
UUP hospital members lauded at AFT convention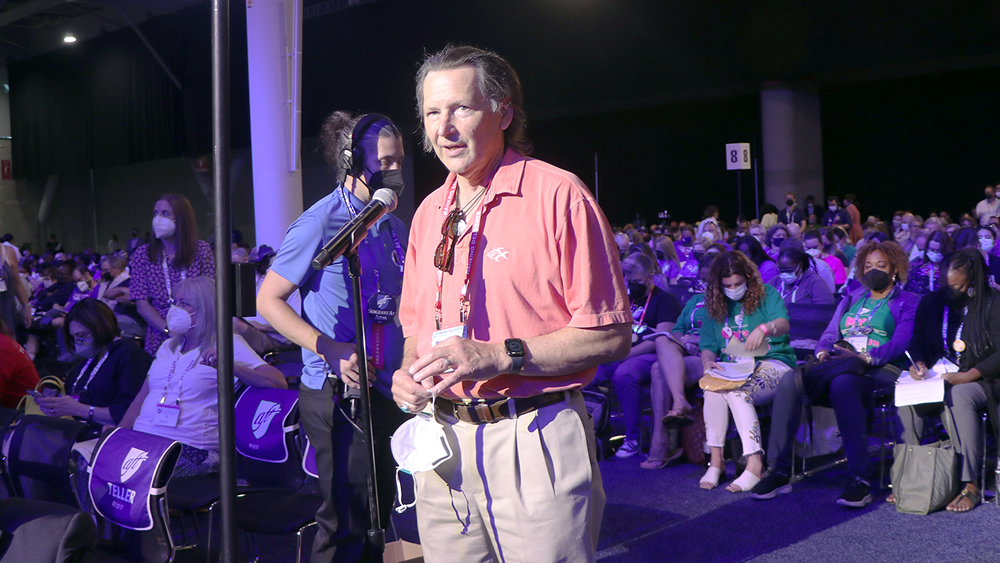 UUP President Fred Kowal took the floor during the AFT convention in Boston, July 14-17, to praise the hard work of members at SUNY's three teaching hospitals during the coronavirus pandemic.
"During COVID, the stress became incredible," said Kowal, who recounted how UUP rallied behind its members at all three SUNY hospitals—in Stony Brook, Long Island; in Brooklyn, and in Syracuse—during the onslaught of the coronavirus pandemic. UUP bought $1 million worth of personal protective equipment, including masks, gloves and gowns, for members at the hospitals when it became clear that the state's supplies of PPE were either outdated or inadequate.
That wasn't the first time UUP came to the rescue of its members at the hospitals, Kowal told 3,000 delegates at the convention. A decade earlier, a coalition of community-based faith leaders and labor, organized by Rowena Blackman-Stroud—the immediate past president of the UUP Downstate Chapter—rallied to save SUNY Downstate Health Sciences University from threatened closure.
"The struggle continues," Kowal told the delegates. "We need public funding for these teaching hospitals, for the healing they do."
PSLF at AFT
UUP statewide Secretary-Treasurer Jeri O'Bryan-Losee also helped lead a workshop on student debt and the Public Service Loan Forgiveness program. Borrowers face an Oct. 31, 2022, deadline to apply to have earlier payments on their loans count toward forgiveness.
Go HERE for more information on this waiver.
Several dozen UUP members attended the convention, where UUP successfully backed three higher education resolutions.
The resolutions dealt with supporting the public mission of public higher education, asking the U.S. Department of Education to investigate and address the inequities that many contingent faculty face, and support for the Faculty and Students Together program, which provides emergency, fast-track assistance to students in need.
Delegates re-elected the incumbent AFT officers to another term. Those re-elected officers are Randi Weingarten, president; Federick Ingram, secretary-treasurer; and Evelyn DeJesus, executive vice president.
Follow us on Social Media!