August 18, 2022
Labor Day parades return!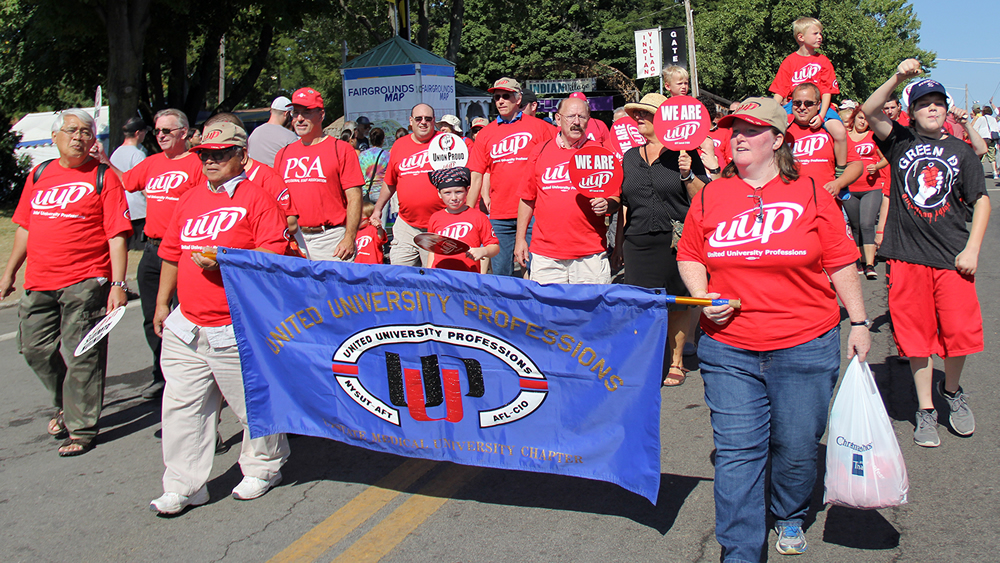 Get ready to march and picnic again on Labor Day!
Cancelled by COVID in 2020—and in 2021 in New York City and Syracuse—Labor Day parades are set to be held all over New York state this year.
UUP leaders and members are set to be at four Labor Day parades and picnics on Labor Day—which falls on Sept. 5 this year. Parades are scheduled in Albany, Buffalo, Massena and Syracuse.
Also, dozens of UUP members are expected to join President Fred Kowal and the union's statewide officers for the 2022 New York City Labor Day Parade on Saturday, Sept. 10.
UUP encourages members to wear face masks to the events and get a COVID vaccination—and boosters—if they haven't already done so.
"I invite all of you to come out and show your union pride by marching with your union in a Labor Day parade this year," said UUP President Fred Kowal. "Not only is it great to be back, it's also more important than ever to celebrate Labor Day, our nation's celebration of workers and unions."
The first-ever Labor Day parade, held in New York City in 1882, was directed by a union, the Central Labor Union. You can read more about Labor Day history by clicking HERE.
Details about the Labor Day parades UUP is participating in are below. Click HERE to register to march with UUP in one or more of the parades.
Email Rob Trimarchi or Jordan Helin for more information.
Sept. 5
Buffalo Labor Day Parade and Picnic:
Line-up time for the parade is 11 a.m.; parade will proceed to Cazenovia Park.
Capital District BBQ Picnic and Celebration:
The picnic runs from Noon to 4 p.m. at Cook Park in Colonie, Albany County.
Massena Labor Day Parade and Solidarity Celebration:
Line up for the parade at 10 a.m. at Willow Street by Coach's Corner Restaurant.
Syracuse Labor Day Parade:
Starts at 10:30 a.m. at the New York State Fairgrounds. Line-up time for the parade is 10 a.m.
Sept. 10
2022 New York City Labor Day Parade
Parade starts at 44th Street and Fifth Avenue and proceeds up Fifth Avenue to 64th Street. UUP steps off at 1:15 p.m.
Follow us on Social Media!