September 16, 2022
Student loan forgiveness bill pushed by UUP becomes law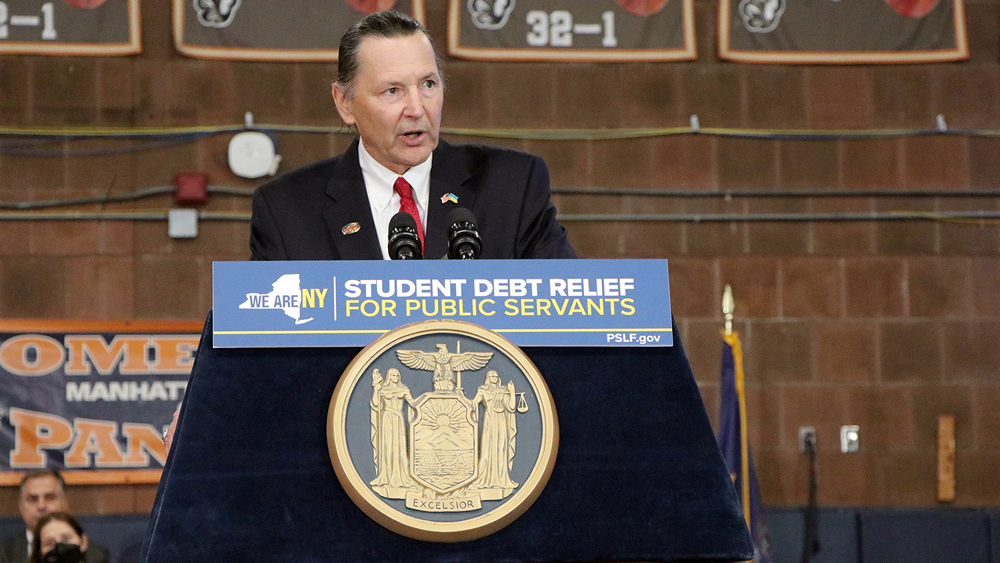 Thousands more state workers now qualify for student loan forgiveness under the federal Public Service Loan Forgiveness program thanks to a new law championed by UUP and signed by Gov. Kathy Hochul.
UUP was one of the strongest, most vocal proponents of the bill, which gives full-time employment status to public employees who work at least 30 hours per week, qualifying them for the PSLF program. The employment status change only applies to the PSLF program access.
Hochul signed the law at a Sept. 15 ceremony at the Borough of Manhattan Community College in New York City. UUP President Fred Kowal was one of five speakers at the event, joining Hochul, PSC/CUNY President James Davis and the bill's sponsors, Sen. Kevin Thomas and Assemblymember Harvey Epstein.
"This is, without a doubt, an historic occasion," said Kowal. "Today, we are taking an important step forward because this legislation…reaches out to those who have been burdened by student debt through no fault of their own. Believing in the promise of higher education, those who will benefit from the expanded Public Service Loan Forgiveness program undertook the education that they did because they believed it would improve their lives, the lives of their families and their communities.
"Due to the skyrocketing cost of higher education, far too many have been left with unjust burdens on their financial situations," he continued. "The law that Gov. Hochul signs today means that the process of loan forgiveness is simplified, it is streamlined and expanded to those who need this help the most—the thousands of part-time faculty who teach our students in the most difficult of circumstances and are compensated with barely livable salaries."
Said Hochul: "This legislation acknowledges the significant contributions of our public servants, first responders, educators and more, by helping unlock federal loan forgiveness for countless members of New York's workforce."
PSLF is a federal program for federal, state and local government employees, as well as tribal government and nonprofit organization. Under PSLF, employees who have made 120 qualifying monthly payments under a qualifying repayment plan while working full-time for a qualifying employer can get the remainder of their federal loans forgiven.
UUP has done much to help its members get student debt reduced or forgiven through PSLF. The union's twice-monthly student debt clinics—created and led by statewide Secretary-Treasurer Jeri O'Bryan-Losee—has helped UUP members get more than $2 million in student loans forgiven.
Adjuncts affected
Adjuncts—which make up about 38% of UUP's membership—are directly impacted by this change. Employees like adjuncts were excluded from PSLF because they didn't work enough hours a week to qualify.
That's because many adjuncts are credited only for classroom hours. Time spent working on lectures and materials, responding to students, and at office hours isn't counted. The new law would change labor law to credit adjunct professors with 3.35 hours for each hour spent in class time—but only for purposes of the PSLF program. The new law would also require New York employers—for PSLF purposes only—to treat 30 hours a week worked as full-time employment.
Also, the new law ensures that debt forgiveness, cancellation, or discharge will not be subject to taxation or required to be reported on individual income tax returns.
An estimated 525,000 New Yorkers—or roughly 1-in-5 of the state's 2.4 million people with student loans—would qualify for PSLF and could have their loans forgiven with these important changes in place.
Follow us on Social Media!