November 10, 2022
North Country SUNY campuses need more funding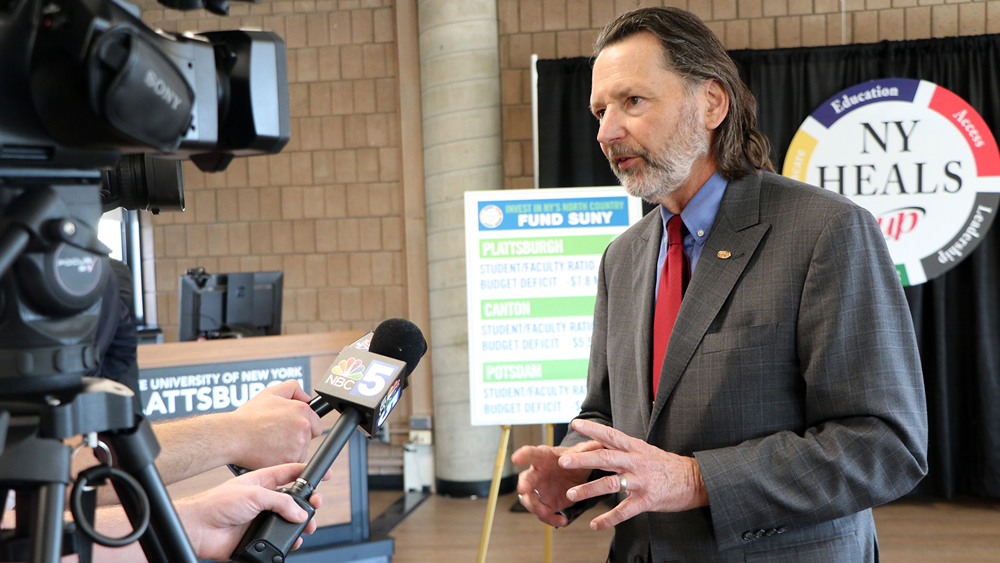 After more than a decade of short-and long-term cost-cutting measures, SUNY Plattsburgh faces a projected $7.8 million deficit in the current fiscal year. Two other North County campuses, SUNY Potsdam and SUNY Canton, are each dealing with projected $5.5 million deficits.
That's what brought UUP President Fred Kowal to the SUNY Plattsburgh campus Nov. 10, to take part in a press conference to call for more state funding for these and other SUNY campuses across the state with similar budget shortfalls.
Kowal was joined by local politicians and community leaders, including Assembly member Billy Jones, Potsdam Chapter President David Reeder, SUNY Plattsburgh President Alexander Enyedi and student Celib Azeem.
"We are here today to reiterate the critical and immediate need to reverse the multimillion-dollar deficits affecting SUNY campuses across the North Country," said Kowal. "These campuses, along with all of SUNY's colleges, universities and public teaching hospitals, drive their regional economies and are vital to New York state's economy. It's time to fully fund SUNY campuses today for the benefit of our students tomorrow."
Jones, a Democrat who trounced his Republican opponent in the Nov. 8 midterm elections to win another term, congratulated UUP for its dogged advocacy for more state dollars to fully close the TAP Gap. He spoke about the importance of SUNY Plattsburgh to the community and the local economy.
"You don't get $700 or $800 million dollars in economic impact if this institution isn't here," he said. "You don't get people coming to visit—families, students, alumni coming back here—if this institution's not here."
He said he would strongly support UUP's push for more funding for campuses and vowed to do all he could in the Assembly to ensure that SUNY is fully funded in 2023-24.
"In my conference, our leadership consistently hears from our members on how important SUNY campuses are around the state," Jones said. "And you have my word that we will continue to advocate to fully fund (SUNY). You have my word that North Country SUNY campuses will be fully funded, and we're going to make it happen."
The SUNY Plattsburgh press conference was the third in a series of press events UUP will stage to spotlight projected million-dollar deficits at nearly 20 SUNY campuses—most of them located Upstate—and the absolute need for more state funding to address the budget shortfalls. The deficits stem from years of underfunding by the state, declining enrollment and increased costs for everything from energy to food.
UUP has held press conferences at the University at Albany, SUNY New Paltz and SUNY College of Environmental Science and Forestry in Syracuse. Another press event is slated for Nov. 17 in Rochester.
Statewide, SUNY's economic impact is about $30 billion annually, according to a 2018 report by the SUNY Rockefeller Institute of Government. Every dollar invested in SUNY by the state yields a return of $8.17. SUNY is also one of the 10 largest employers in every region in the state except New York City.
"The effects of underfunding and budget cuts have been felt by faculty and administrative staff at Plattsburgh," Azeem said. "But eventually, it will be felt by students as a whole. By underfunding the system, we are taking away the rights of our students to an affordable college education. And that is something we need to look at."
Follow us on Social Media!