November 30, 2022
Addressing mental health needs for students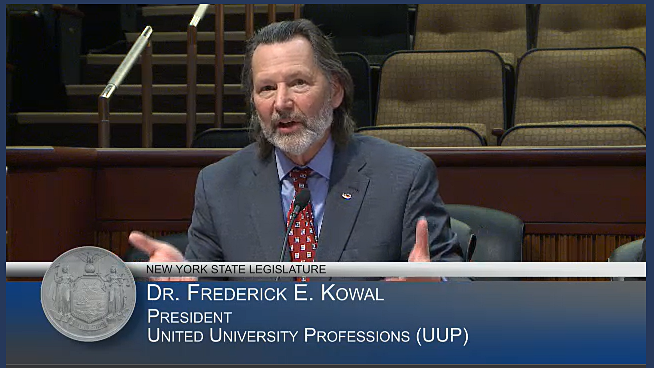 Many people may think the coronavirus pandemic is over, but for SUNY students who have faced illness, death, isolation and homelessness, it is anything but.
That's why UUP has developed a three-point plan to address what remains an urgent need: A severe shortage of mental health counselors on many SUNY campuses, and an overall shortage of people entering mental health professions, such as social work and clinical psychology.
UUP President Fred Kowal shared that plan with state legislators in testimony at a Nov. 30 hearing called by the Assembly committees on higher education and mental health on the mental health needs of New York college and university students.
"Mental health is not an individual problem; outcomes are shaped by the social structures that our students interact with," UUP President Fred Kowal told a panel of state lawmakers. "It is our duty to enact the structural changes necessary to improve the lives of all and to build a more just New York."
Students need more support
Under the plan proposed by Kowal during his testimony, UUP is asking the state to help SUNY in the following ways:
Hire 50 more mental health counselors for the SUNY system;
Improve support and services for students with disabilities; and
Create a Mental Health Educational Opportunity Program to provide special support for underrepresented students pursuing careers in mental health fields.
As Kowal noted to committee members, the smaller SUNY campuses tend to have much lower and more acceptable ratios of mental health counselors to students; it's the large campuses, such as the University at Buffalo, where counselor-to-student ratios can exceed one counselor for every 1,400 students.
"In addition to serving students, additional staff will help ease the burnout and excessive caseload counselors face as they work to help our students," Kowal said.
It is not uncommon for the Assembly Committee on Higher Education, chaired by Deborah Glick, to hold hearings on various topics of concern before the legislative session opens, to help determine funding priorities. UUP welcomed this hearing's important focus on mental health, as the union has already started to address this issue through its own efforts.
The May 14 gun massacre in a Buffalo grocery store, where a teenaged gunman specifically targeted Black patrons and killed 10 people, prompted UUP to convene a panel of national experts to talk about the trauma of systemic racism, and the challenges that people of color face in seeking help for mental health problems. A lack of mental health professionals of color is one major problem—hence, the UUP proposal for a program that would encourage students from underserved populations to enter professions such as social work.
Kowal told lawmakers that UUP will also press the Legislature to fully fund a higher education request from last year that sought $15 million to expand mental health services for students with disabilities. Instead, that request was funded at $2 million, of which SUNY got less than $850,000.
"This year we must fully fund this request," Kowal said in his testimony. "Students with mental health diagnoses seek accommodations, but we are failing them and their academic success." He cited a lack of adequate testing space on some SUNY campuses, so that students entitled to special accommodation because of a mental health diagnosis cannot easily access a place to take exams.
You can read Kowal's written testimony HERE.
Watch UUP's membership magazines, The Voice and The Echo, for updates on UUP's proposals to improve mental health services.
Go HERE to read more about the forum of experts who spoke after the Buffalo shooting and readers will find a link in the story to the video recording of the discussion.
UUP's podcast, The Voice, dedicated an episode to discussion of the mass shooting. You can find it HERE.

Follow us on Social Media!