December 4, 2022
UUP mourns passing of dedicated leader Blackman-Stroud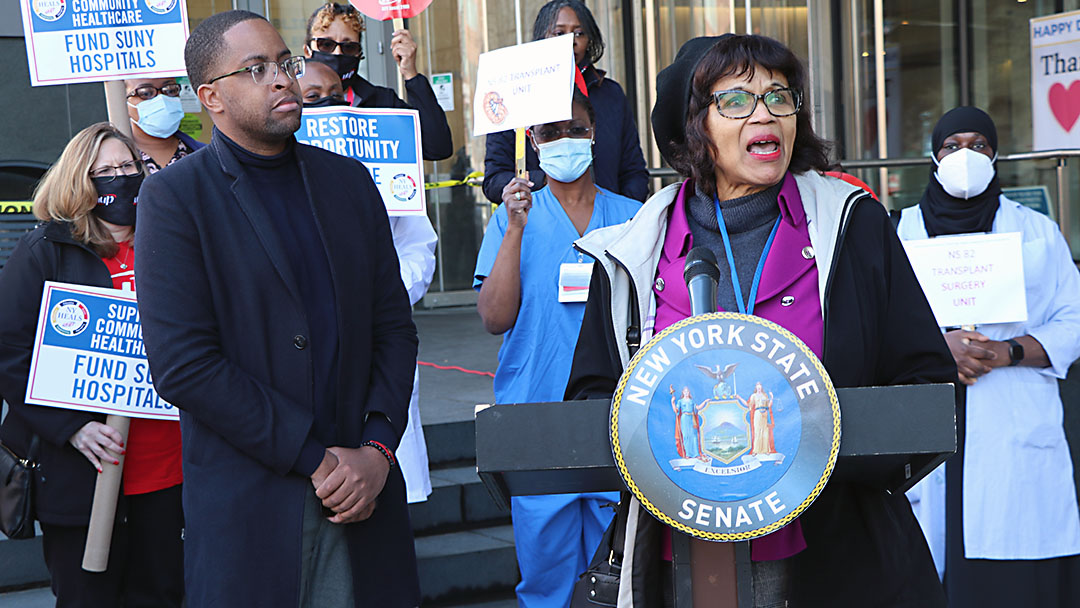 United University Professions mourns the passing of Rowena Blackman-Stroud, who served as a union leader for more than three decades, including 23 years as UUP's statewide treasurer.
"Rowena was a fierce fighter who always put the well-being of our members first," said UUP President Fred Kowal. "She was never afraid to speak truth to power. As president the Downstate Chapter in Brooklyn, her tenacity, focus and dedication saved thousands of jobs that were in jeopardy at SUNY Downstate Health Sciences University.
"Rowena embraced organized labor and held an unfailing faith in the union's power to change—and save—lives. We have lost a remarkable leader and a dear friend. Her passing is a huge loss for our UUP family."
Blackman-Stroud passed away Dec. 3 after a brief illness.
Blackman-Stroud served as president of UUP's Downstate chapter for over 30 years. She is widely credited for organizing and spearheading a union-backed fight from 2012 through 2015 to block planned layoffs and retrenchments at the Brooklyn public teaching hospital.
It was Blackman-Stroud who singlehandedly assembled the SUNY Downstate Coalition of Faith, Labor and Community Leaders—made up of Brooklyn-area faith-based and community leaders—a group that was instrumental in gaining legislative support to save jobs at the hospital.
During the coronavirus pandemic, Blackman-Stroud demanded necessary protective gear, mandatory COVID testing and vaccines for Downstate chapter members and UUP members at SUNY's public teaching hospitals in Stony Brook and Syracuse. She also pushed for and secured support for retention pay bonuses for frontline workers from UUP's statewide and national affiliates, the New York State United Teachers and the American Federation of Teachers.
Working with Kowal, Blackman-Stroud secured thousands of surgical gowns, gloves and face masks for Downstate frontline workers, achieving this during a severe nationwide PPE shortage.
Blackman-Stroud stepped down as UUP's treasurer in 2017. Under her guidance, UUP became a stable, financially strong organization.
At her retirement ceremony, at the 2017 Spring Delegate Assembly, former UUP president Bill Scheuerman praised Blackman-Stroud as the embodiment of UUP.
"She'd be the first person inducted into a UUP Hall of Fame," Scheuerman said.
Blackman-Stroud said it was an honor to serve as the union's treasurer. "This union presented me with a way to make a contribution to people's lives. Thank you for putting your trust in me," she said.
Blackman-Stroud served as a member of UUP's Executive Board from 1986 to 1994, when she was elected as UUP's statewide treasurer. She was also a longtime NYSUT Executive Board member and a member of the New York AFL-CIO's Executive Council.
Follow us on Social Media!