December 16, 2022
UUP VPA Karl speaks out on bill for on-campus abortion medications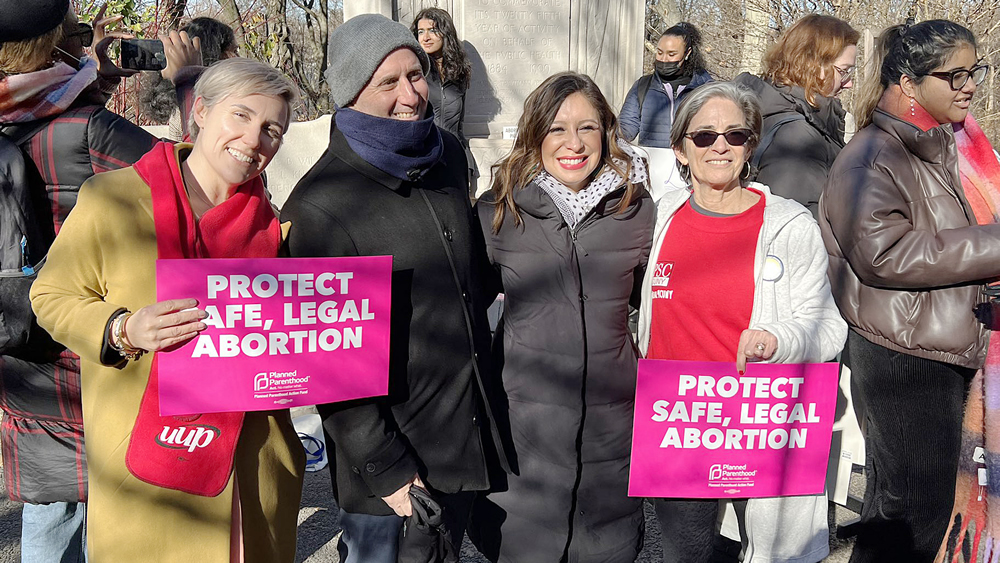 UUP Vice President for Academics Alissa Karl joined SUNY and CUNY students and state lawmakers at a Dec. 14 rally to push a bill that would mandate that the public university systems provide abortion medications on campus.
At the rally, at Barnard College in New York City, Karl and other speakers urged support for the bill, sponsored by Sen. Cordell Cleare and Assemblymember Harvey Epstein.
"SUNY campuses are public goods that provide valuable resources to communities across the state," Karl said. "UUP members at SUNY campuses are already providing health care services to thousands of students and employees every year. A noticeable gap in these services is necessary reproductive health care on our campuses. This forward-thinking legislation will expand reproductive health care capacity in New York and ensure that members of the SUNY community can access reproductive health care without unnecessary barriers."
Under the bill, 89 CUNY and SUNY campuses would be required to provide access to abortion medication at student health centers that serve over half a million students—of which 57% percent are women. Schools can contract with outside vendors to provide the service; campuses that can't meet the mandate would be required to provide off-campus referrals to hospitals or clinics.
According to a press release issued by Epstein and the Reproductive Justice Collective at Columbia University and New York City, abortion providers are an average of 11 miles away from SUNY campuses—with some campuses as far as 70 miles away from a clinic.
Read the press release HERE
Follow us on Social Media!