February 15, 2023
Members to lawmakers: Love SUNY by funding SUNY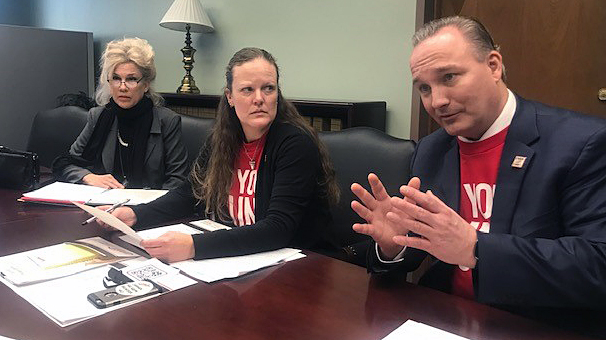 UUP has come into its own as a powerhouse voice for SUNY and for public higher education in general—and no better proof of that could be seen than in how lawmakers turned out in force for the union's two days of advocacy Feb. 13-14.
In a one-two push, UUP hosted its first-ever legislative reception Feb. 13—an event that drew dozens of lawmakers and also state Comptroller Thomas DiNapoli, who has worked closely with UUP on issues of oversight involving SUNY. And then on Feb. 14—Valentine's Day—UUP members donned bright red heart-themed T-shirts, for a strong show of energized meetings with lawmakers headlined as "Love Your SUNY."
At top, from left, Oneonta Chapter member Shirley Clark, Cortland Chapter member and statewide Executive Board member Bekkie Bryan watch as Binghamton Chapter VP for Professionals Brendan McGovern makes a point during a meeting with a representative of Sen. Lea Webb.
Years of underfunding; hope for this year
In his remarks to the sizeable gathering at the reception, Kowal recounted the damage that 15 years of austerity funding has done to SUNY's four-year campuses and teaching hospitals. And he credited the membership, supportive lawmakers and a new outlook by Gov. Kathy Hochul for helping to reverse that damage. There is still work to do, he added.
"What we are doing over the last year and a half is attempting to turn the page," Kowal said. "And the governor and our friends in the Legislature are helping. Last year was the first in 10 years that the governor increased funding."
However, members went into their "Love Your SUNY" day of advocacy with three pressing issues to discuss with lawmakers and legislative staff. UUP wants $160 million to help 19 campuses that are facing severe budget shortfalls right now. UUP wants $175 million in operating funds for the three SUNY hospitals. And UUP wants $110 million in operating aid to the four-year campuses.
The state has the money to do all of this, Kowal said.
"I'm optimistic," he told the gathering. "I think this is a year when we will see more success than we did last year."
Honoring longtime friends; forging new ties
At the Feb. 13 reception, Kowal thanked two longtime public higher education advocates who have always supported UUP's years-long efforts to improve funding to SUNY: Sen. Toby Ann Stavisky, and Assemblymember Deborah Glick. Stavisky will continue this session as chair of the Senate Committee on Higher Education; Glick has turned over her leadership of the Assembly higher education committee to Assemblymember Patricia Fahy, who has long demonstrated her concern for the labor movement and for UUP.
Stavisky and Glick received framed UUP certificates—presented by Kowal—thanking them for their friendship and strong support for SUNY.
In their meetings with lawmakers Feb. 14, members found generally supportive responses by legislators—ranging from longtime incumbents to first-time lawmakers such as newly elected Sen. Webb, who was a UUP member in the Binghamton Chapter when she won her seat in November.
In a meeting with newly elected Sen. Iwen Chu, whose 17th Senate District covers part of Kings County in New York City, a delegation from the UUP Downstate Medical Center Chapter—also based in Brooklyn, at Downstate Health Sciences University—clearly had the new senator's full attention as they detailed their harrowing experiences during the first months of the coronavirus pandemic. It was UUP that provided life-saving personal protective equipment to members, Downstate Chapter President Redetha Abrahams-Nichols told Chu.
And the need has not lessened, said member Dara Stephenson, chief nurse practitioner for kidney transplant surgery.
"I would not describe us as stressed," she told Chu. "I would describe us as desperate."
Watch the UUP website at www.uupinfo.org, or check with your chapter leaders, for information on upcoming advocacy events. Events will also be announced in the Connect and UUPdate e-newsletters.
Follow us on Social Media!