March 27, 2023
Hundreds rally for SUNY Downstate as budget deadline draws near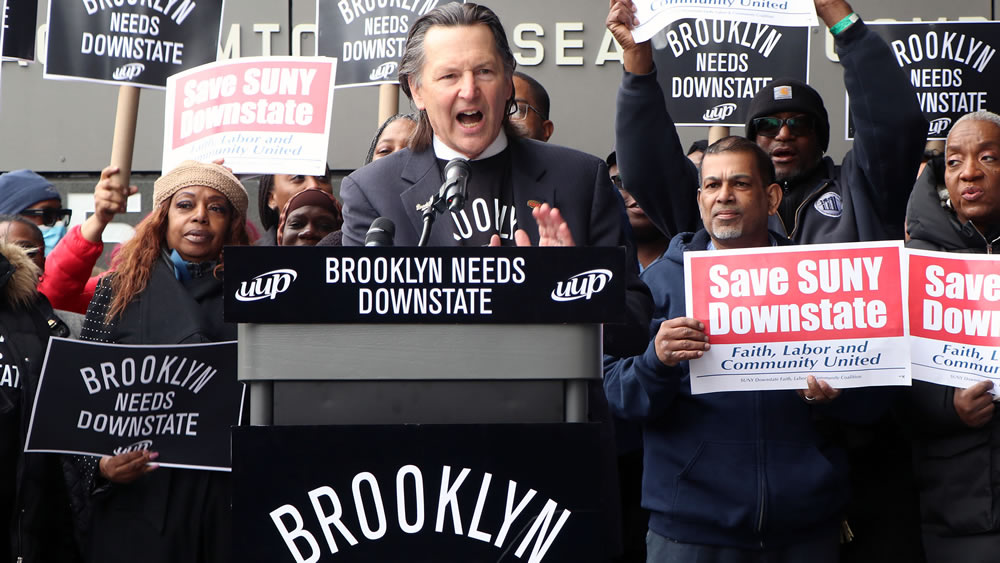 More than 300 UUP members, faith and community activists and advocates for safe, affordable public hospital care rallied at SUNY Downstate Health Sciences University March 24, with one message for lawmakers: Brooklyn needs Downstate.
That chant resonated over and again during the rousing 90-minute rally, as Downstate supporters demanded that the state resume funding one of its most important public health care assets. The rally had an added sense of urgency, as it took place just eight days before the state budget is due.
Gov. Kathy Hochul's Executive Budget proposal did not include any operating support for any of the SUNY hospitals, but SUNY and a number of key lawmakers have joined UUP in pressing for operating funds for all three public hospitals, including Upstate Medical University Hospital in Syracuse, and Stony Brook University Hospital.
"We are committed together to deliver the message that Brooklyn needs Downstate," UUP President Fred Kowal said as he kicked off the rally. "We are here because we are summoned to bear witness to the lifesaving work of our union siblings in three unions: CSEA, PEF and UUP … so it's good that we are here in this hour to call out the leaders of our state that the sacred work that goes on in these walls must be honored not with words, but with deeds."
Lifesaving care, without state support
For the last decade, New York's financial approach to Downstate's University Hospital has been at odds with the hospital's stellar reputation and the irreplaceable role it has held in one of the highest-need urban areas in the United States. At a time when the medical profession has acknowledged that patients respond better to doctors with whom they can relate, Downstate's medical school has trained more physicians of color than any other medical college in the state—and the Downstate University Hospital has been the clinical training ground for those doctors. At the height of the coronavirus pandemic, New York designated Downstate University Hospital as a COVID-only hospital.
Yet it's been years since New York provided any operating funds to its three SUNY teaching hospitals, and the hospitals are the only state entities required to pay their own debt service. UUP has called for an immediate $133 million operating aid infusion for SUNY Downstate.
Past victory inspires current funding push
It's been a long struggle for Downstate. Ten years ago, the hospital faced a serious threat of privatization or outright closure. UUP leaders, including the late Rowena Blackman-Stroud—the longtime UUP Downstate Chapter president—pulled together a coalition of faith leaders, labor and community activists in a move largely credited with keeping the hospital and medical school open and public.
Kowal paid tribute to Blackman-Stroud, who died in December 2022, as he recalled that earlier effort.
"Her spirit is with us, and that's going to inspire us to be successful once again," Kowal told the crowd, which cheered at the mention of Blackman-Stroud's name.
National, statewide advocates back Downstate
More than a dozen speakers joined Kowal on the steps in front of the hospital's entrance at 450 Clarkson Ave. Labor leaders included AFT President Randi Weingarten, New York AFL-CIO President Mario Cilento, NYSUT President Andy Pallotta and Redetha Abrahams-Nichols, the UUP Downstate Chapter president.
Among the state lawmakers who have been advocates for public higher education and public health care were Sen. Zellnor Myrie and Assemblymembers Latrice Walker and Monique Chandler-Waterman. And Bishop Orlando Findlayter of Brooklyn's New Hope Christian Fellowship reiterated his support for Downstate as he invoked memories of the fight a decade ago to keep the hospital open and public—a fight in which he played a key role as a faith leader who knows the value of Downstate to the people it serves.
Go to UUP's website at UUPinfo.org for more information and coverage of the event, and watch the website for updates as lawmakers and the governor continue working toward a final enacted state budget.
Follow us on Social Media!