April 30, 2023
UUP members honored at NYSUT RA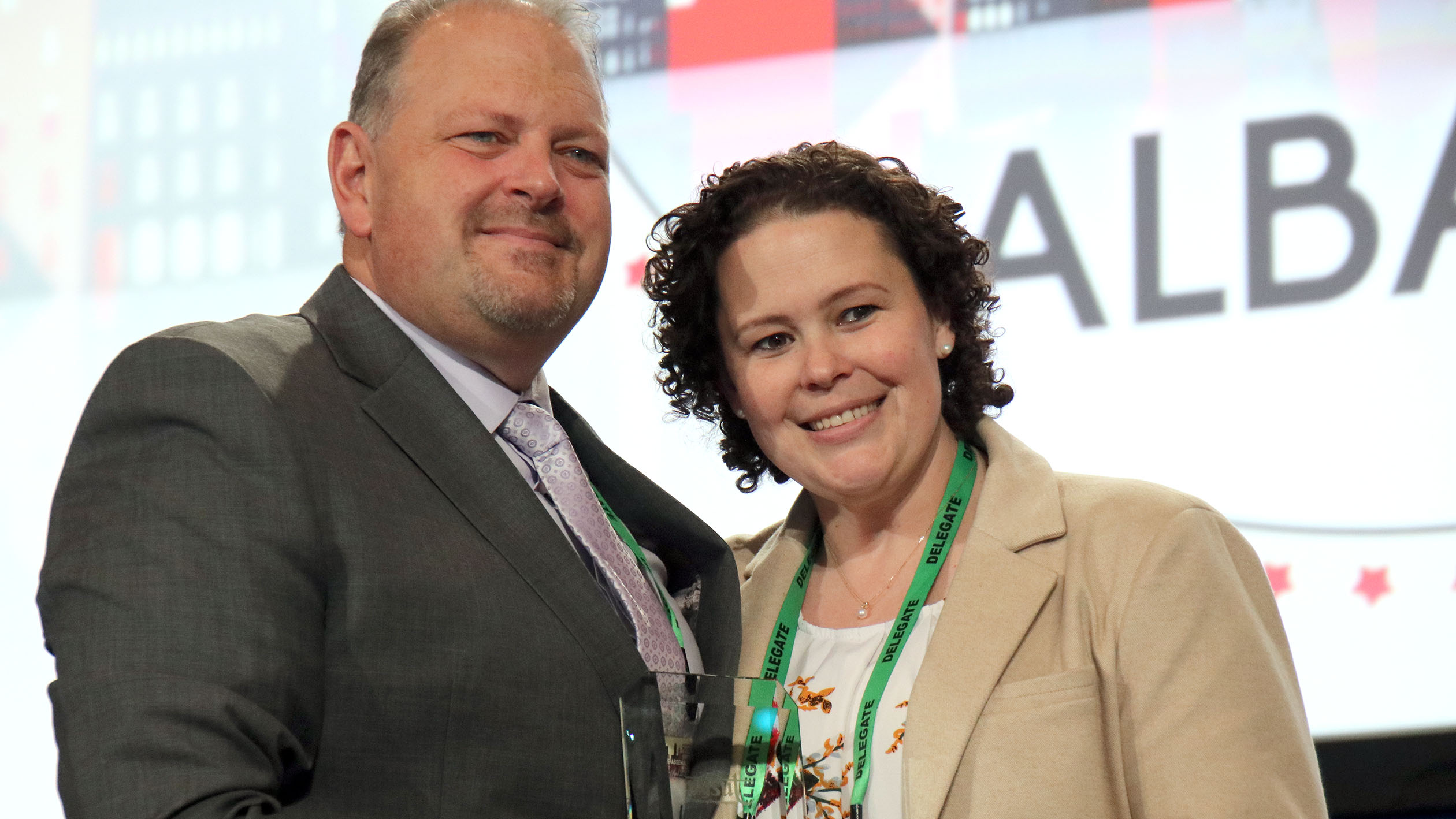 Two UUP members were honored at the NYSUT Representative Assembly 2023 for their union work, dedication and advocacy.
More than 2,000 delegates to the RA—NYSUT's annual policy-making convention—also elected a new NYSUT statewide president and executive vice president at the two-day event, held April 28-29 at the Albany Capital Center.
The late Rowena Blackman-Stroud, the union's longtime statewide treasurer and Downstate Chapter president, was awarded posthumously with the 'Not for Ourselves Alone:' The Sandy Feldman Outstanding Leadership Award. The award honors women who have provided significant service and leadership to their local and state affiliates during their careers.
You can read more about Blackman-Stroud's years as a fierce advocate for UUP HERE. You can view a NYSUT video about her life HERE and a UUP tribute video HERE.
Mindy Heath, an Upstate Medical University physical therapist, won NYSUT's Health Care Professional Member of the Year. Health, who was elected as a UUP statewide Executive Board member in April, is a member of UUP's Negotiations Team. You can view a NYSUT video about Heath HERE.
"I appreciate this award in recognition of my work in health care and with the union," said Heath, who was at the RA to accept her award. "I wish there were a way I could share it with each of my coworkers. If only I had a dollar for every time a health care worker was thanked or called a hero, then I could fund a fair contract for all my fellow UUP members!"
Karl, O'Bryan-Losee elected as NYSUT directors
More than 60 UUP delegates to the RA attended the gathering, where they elected UUP statewide VP for Academics Alissa Karl and Secretary-Treasurer Jeri O'Bryan-Losee as NYSUT election district directors. Former VP for Professionals Tom Tucker was reelected as an election district director.
UUP President Fred Kowal, a member of NYSUT's Executive Board, was reelected as a NYSUT at-large director. Empire State College Chapter President Pamela Malone was reelected as a NYSUT at-large higher education director.
Person elected NYSUT president
Delegates elected Melinda Person to a three-year term as NYSUT's new president. She succeeds Andy Pallotta, who is stepping down. Person takes over as president after serving as NYSUT executive director and political director. Jaime Ciffone, an educator of 21 years, was elected as executive vice president. She replaces outgoing Executive VP Jolene DiBrango, who is retiring.
NYSUT Second Vice President Ron Gross and Secretary-Treasurer J. Philippe Abraham—a former UUP statewide VP for Professionals—were both re-elected to three-year terms.
Speakers at the RA included AFL-CIO President Liz Shuler; AFT President Randi Weingarten; National Education Association President Becky Pringle; Assembly Committee on Higher Education Chair Pat Fahy; and New York State AFL-CIO President Mario Cilento.
Follow us on Social Media!