May 10, 2023
Hundreds rally for fair contract in Buffalo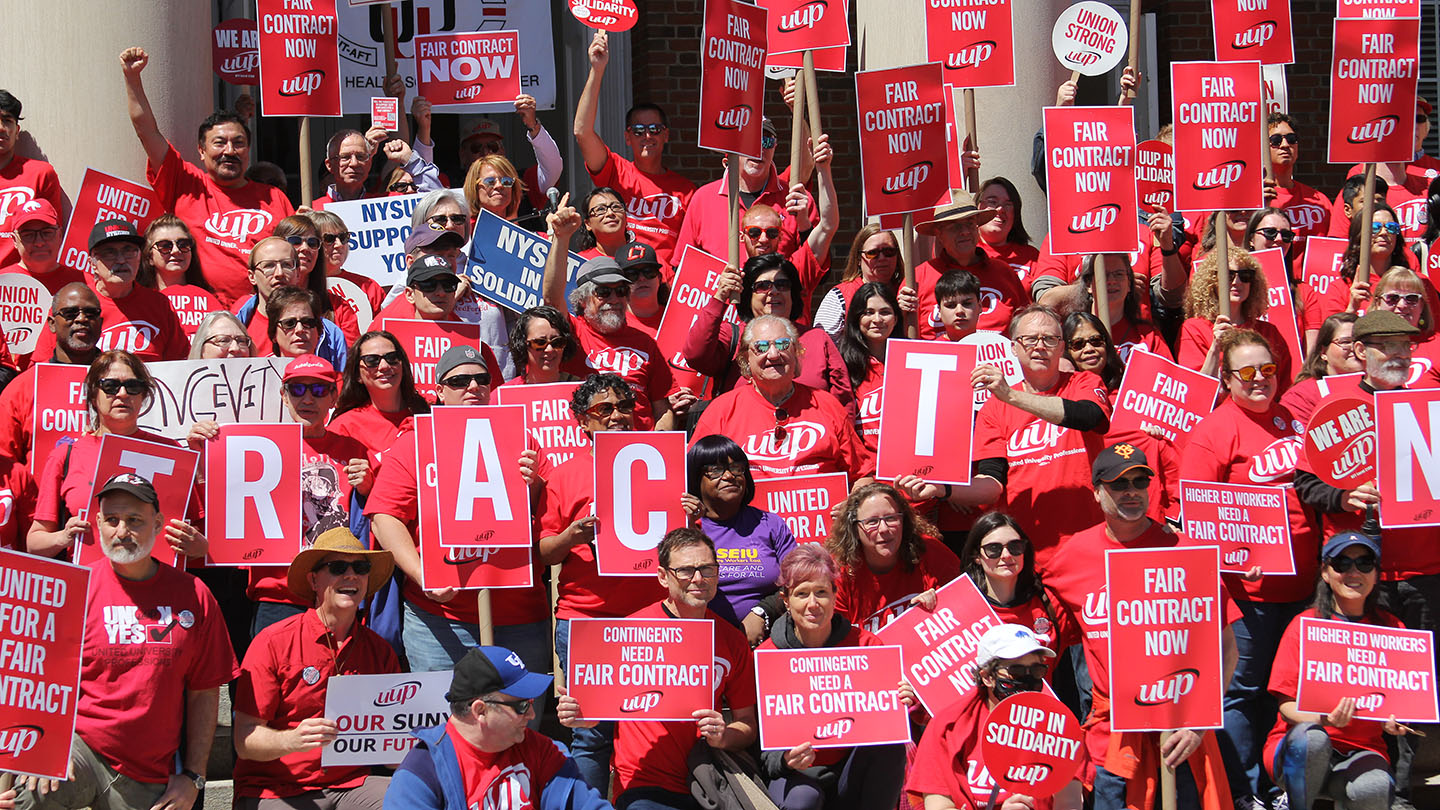 View photos from the rallies on UUP's official Flickr page HERE.
UUP members and their fellow unionists in Western New York labor turned out 800 strong on the SUNY Buffalo State College campus May 6 to shout down the house for a fair contract.
"The reality is: The only way we will be recognized for the work that we do in the contract by the leaders of this state, and especially by the governor, is if we stand up and we yell out that we demand a fair contract," UUP President Fred Kowal told the cheering, applauding crowd.
He then led the crowd in a chant: "When do we want a fair contract?" The crowd roared back over and again: "Now! Now!"
The rally attendees packed into a plaza in front of the campus landmark building, Rockwell Hall, which is visible from Elmwood Avenue in front of the campus and also from the main access road through campus. The crowd jammed the plaza in front of Rockwell Hall, forming a sea of red T-shirts and waving signs in support of UUP. The lineup of speakers included advocates for a fair contract from other labor leaders, from the Legislature and from UUP leadership.
The speakers turned up their volume, in voices that reached all the way back through the crowd, and the crowd turned up its energy as it shouted back the responses to chants and cheered throughout the hour-long rally.
In addition to Kowal, speakers included: state senators Tim Kennedy and Sean Ryan; Assembly member Bill Conrad; Bret Benjamin, UUP's chief negotiator; Philippe Abraham, NYSUT secretary-treasurer and former UUP statewide vice president for professionals; Peter DeJesus, president of the Western New York AFL-CIO; Anne Fearman, chair of UUP's Contingent Employment Committee; Jude Jayatilleke, a member of UUP's Negotiations Team and VPP at the UUP Buffalo State Chapter; Kat Kielar, VPP at UUP's Buffalo Center Chapter; and Joe Cantafio, the NYSUT Western New York regional director.
UUP has been without a new contract since July 2022.
Benjamin also got a roaring response from the crowd as he urged UUP members to stand strong and hold firm for a fair contract.
"The chancellor needs to hear what we are fighting for! We're fighting to stop this system of DSI, that gives our money to management, and says, 'You do with it what you want,'" Benjamin told the crowd in a voice that reached to the far edge of the huge gathering. He referred to SUNY Chancellor John King Jr., and to the Discretionary Salary Increase system, a program of granting raises to SUNY employees in what UUP considers an arbitrary manner.
"We're trying to put into place longevity raises, service awards, that would be fair to our members," Benjamin said. "Send the letter; tell Chancellor King that we need longevity raises now!"
Click HERE to send a letter to Chancellor King.
Read coverage of the event by Western New York Labor Today.com HERE.
Follow us on Social Media!