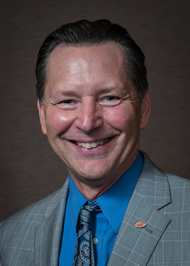 Running on a platform to make United University Professions a dynamic and progressive force, Frederick E. Kowal of Warnerville, NY won election as UUP President in May 2013.
UUP is the nation's largest public higher education union and represents more than 37,000 academic and professional faculty on the State University of New York's 29 state-operated campuses.
After winning election, Kowal spent the first two years working with chapters across New York to energize and unify what had become a divided and moribund union.
Under Kowal's leadership, UUP has launched a broad and successful union organizing campaign to ensure that it had the political power to resist austerity budgeting dictated by the Cuomo Administration. This initiative created the foundation for UUP's strength in anticipation of a ruling against organized labor in the U.S. Supreme Court's landmark Janus v. AFSCME decision in 2018.
UUP has also become a politically influential organization in New York state, bringing attention to important issues such as securing long-term funding sources for SUNY, combating climate change and fighting for racial and social justice.
Central to this political work has been Kowal's insistence that UUP take on the role of offering innovative solutions to the challenges facing New York state. His "NY25" plan, released in 2019, is a bold, wide-ranging blueprint that sets SUNY as a leader in combating climate change and the state's transition to a sustainable future, while promoting the health of all New Yorkers and establishing reliable, long-term resources for public higher education in New York. It sets a solid course for SUNY into the 2020s.
In 2020, Kowal strengthened the bonds between the union and its members during the coronavirus pandemic, spearheading a program to provide UUP members on the front lines with hotel rooms near SUNY's public hospitals and holding a series of "Tele-town Hall" forums with members—the first time UUP has ever held such events. He directed the purchase of personal protective equipment for essential workers at SUNY's hospitals, including 100,000 isolation gowns and thousands of N95 masks and Nitrile gloves.
Kowal grew up in the mill town of Chicopee, MA, the son of working class, union-represented parents. He earned a Bachelor of Arts in economics from Western New England University, a master's in economics at American University and a doctorate in political science from UAlbany.
"My central goal as UUP president will be to build this union for the future, drawing in new energy while preserving the foundation on which UUP was built," Kowal said.