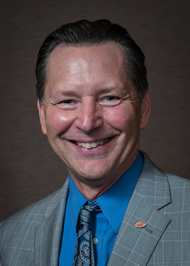 Running on a platform to make United University Professions a dynamic and progressive force, Frederick E. Kowal of Warnerville, NY won election as UUP President in May 2013.
UUP is the nation's largest public higher education union and represents more than 35,000 academic and professional faculty on the State University of New York's 29 state-operated campuses.
Kowal served as UUP Chapter President at SUNY Cobleskill from 1993 to 2003 and again from 2011 until his election as statewide president. Since 1985, Kowal has also taught political science and Native American studies at Cobleskill.
In October 2013, Kowal was appointed as a vice president for the American Federation of Teachers. He also serves as chair of AFT's Higher Education Program and Policy Council.
In April 2016, Kowal was appointed to the National Wildlife Federation's board of directors. In November, he was honored by the Labor-Religion Coalition of New York State. Kowal will receive the American Labor Studies Center's 2017 Kate Mullany Medal in December.
Kowal's statewide UUP experience includes service as the elected Membership Development Officer from 1999 to 2002 and as an Executive Board member from 1995 to 2002, and from 2012 to the present. He has also been active in UUP's legislative advocacy efforts, pressing for UUP's legislative and political action priorities.
Kowal served on the UUP Negotiations Team that bargained with New York State for the 1999-2003 contract, and has held leadership roles in several statewide committees including: Chapter President Release Time (Chair); Technology Sector (Co-Chair); Elections and Credentials; and the Constitutional Task Force.
As chapter president at SUNY Cobleskill, Kowal faced and fought the threat of the campus's closure during the mid '90s, working with the chapter Executive Board to persuade state lawmakers to keep the college open. Later, after dozens of faculty members received notices their positions were being "retrenched," Kowal led successful efforts to prevent any job losses. Since 2011, he has inspired new members at Cobleskill to become chapter activists and directed the revamping of the chapter's system of representation across the campus.
Kowal grew up in the mill town of Chicopee, MA, the son of working class, union-represented parents. He earned a Bachelor of Arts in economics from Western New England University, a master's in economics at American University and a doctorate in political science from UAlbany.
"My central goal as UUP president will be to build this union for the future, drawing in new energy while preserving the foundation on which UUP was built," Kowal says.