May 25, 2023
Experts provide hope, ideas, for mental health issues on campus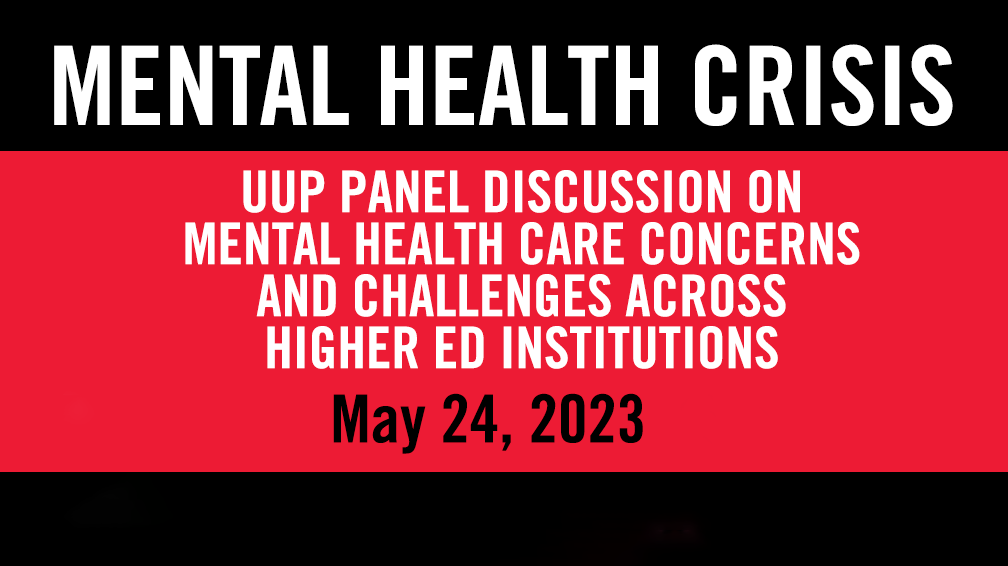 The coronavirus pandemic upended life for hundreds of thousands of college students in the United States, at the same time it upended the mental health profession.
Now, advocates for college students are trying to devise new ways to meet this unprecedented need. Obstacles include staffing shortage, outdated state laws and a lack of diversity in the mental health professions. UUP has been closely monitoring this situation and urging action by SUNY and state lawmakers.
UUP has also been hosting forums on mental health needs in communities and on campuses, the second of which took place May 24 as a virtual panel discussion that reached more than 200 people.
"Today, we are focused on the impact of the pandemic when it is paired with racism and social upheaval," UUP President Fred Kowal said as he opened the forum. "There is a major mental health crisis happening on our campuses at the same time we face a serious shortage of mental health professionals."
Pandemic a once-in-a-lifetime crisis
A report written by one of the panelists—John Richter, director of public policy for the Mental Health Association in New York State—put the situation this way: "The COVID-19 pandemic introduced a level of fear, uncertainty, and isolation so profound that its impact has increased the incidence of moderate to severe anxiety and depression among first-year college students by 40% and 48% respectively.2 The added demand for mental health services has made accessing care more challenging than ever. The pandemic has without a doubt contributed to a perfect storm of mental health challenges on college campuses."
Other panelists included UUP members Sourav Sengupta, a psychiatrist at Buffalo HSC who specializes in the treatment of children and adolescents; and M. Dolores Cimini, director of the Center for Behavioral Health Promotion and Applied Research at the University at Albany. Also on the panel: Kristie Golden of Stony Brook HSC, president of the Association for Mental Health and Wellness; and Lauren Finke, policy director at The Kennedy Forum, a research and public policy organization in Cambridge, Mass., that seeks to reform the delivery of mental health care in the United States.
Increased need, decreased help
The panelists responded to questions submitted in advance by the audience. In their responses, panelists said that:
* Some students start college with far more complex mental health and substance abuse issues now than even a decade ago—including a pronounced increase in anxiety, versus the depression of earlier years—and while the pandemic may have exacerbated this problem, the pandemic did not start it.
"This is something that's been happening for a long time," Finke said. "It's not just because of the pandemic."
Low salaries for many mental health professionals—especially at nonprofits that may rely on grants and state money to fund programs and pay staff—have created turnover in the field. This can make it difficult for parents to find a stable situation for a child or adolescent who needs mental health intervention.
* There is a documented shortage of mental health professionals from communities of color.
However, the panelists also offered ideas. Some campuses are making a strong effort to increase the number of students entering mental health professions. Peer counseling by students trained in this technique can be an effective way of making a student feel comfortable about disclosing a struggle with mental health. Faculty and staff can be trained in effective ways to approach a student they think might need help.
One thing that can only be changed by lawmakers—and should be, the panelists said: Licensing requirements that may make it difficult or impossible for a mental health professional to transfer their license from one state to another.
UUP pressing for services, funding
UUP has made improvement of mental health services on SUNY campuses a priority. The final enacted state budget cut funding for these services by $1 million, but UUP is still pressing for funding of several of its ideas in its post-budget advocacy effort, including $4 million to start a Mental Health Educational Opportunity Program to provide special support for underrepresented students pursuing careers in mental health fields.
Kowal has also called for SUNY to hire 50 more mental health counselors for the SUNY system, and to improve support and services for students with disabilities. As Kowal noted to the Assembly committees on higher education and mental health in a hearing in November 2022, the largest SUNY campuses have the highest counselor-to-student ratios in the SUNY system, with a ratio exceeding 1,400 students for every counselor at some campuses.
UUP plans another forum on mental health issues in higher education in August. Look for announcements and registration information on the UUP website (uupinfo.org) and in the Connect newsletter.
To read about UUP's first forum on mental health issues as they relate to systemic racism and generational trauma, go HERE https://uupinfo.org/communications/uupdate/221021.php for coverage of the forum UUP held in October 2022 in response to the racist massacre in a Buffalo grocery store, when a teenaged gunman killed 10 people solely because they were Black. Buffalo just marked the one-year anniversary of that massacre, which occurred May 14, 2022.
To read about Kowal's testimony on UUP's demands for more programs, services and funding to address mental health needs on SUNY campuses, go HERE for coverage of the Assembly hearing in November 2022.
To watch the forum on UUP's YouTube channel, see the following links:
Follow us on Social Media!